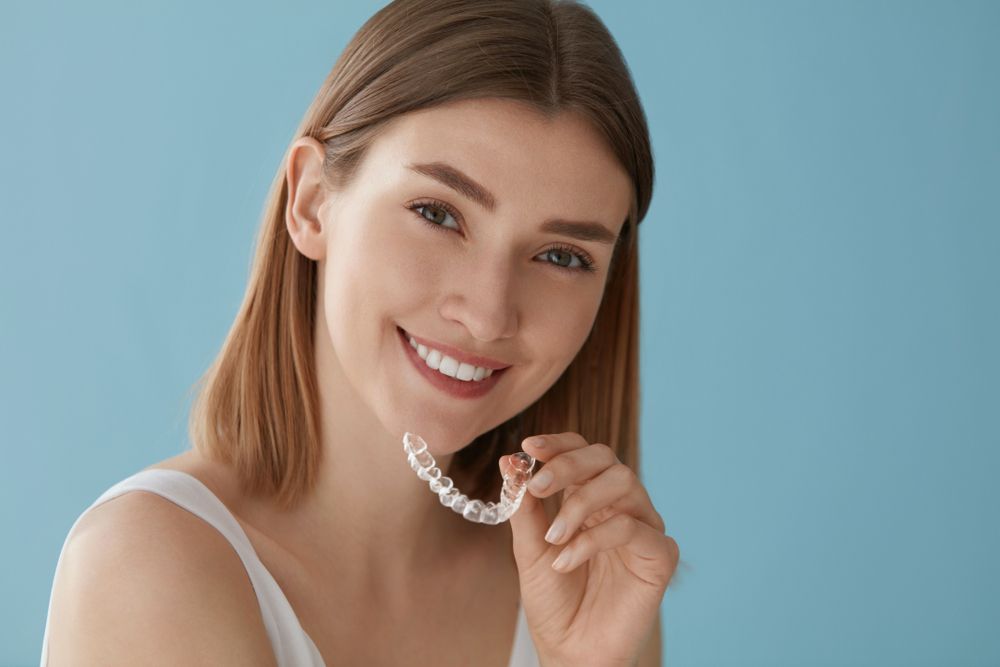 Perfectly straight, aligned teeth that come together with precision when we close our mouths are very desirable and help to give us a smile that is attractive and that we can feel confident in. Unfortunately, since teeth can erupt at very different times, very few of us are blessed with a naturally well-aligned smile. Crooked, twisted and overlapping teeth are very common, as to are teeth that don't meet properly when our jaw is closed. Not only does this affect the appearance of our smile, but it can also be bad news for our oral health. This is because it is easier for cavities and gum disease to develop when teeth are skewed owing to the gaps and small crevices that occur when teeth aren't perfectly aligned.
Fortunately, there are several options that can help us to correct the position of our teeth and jaw and give us the smile that we deserve. Two of the most popular are clear aligner solutions known as Smile Correct and Invisalign. At first glance, they may seem like exactly the same treatment. However, there are some distinct differences. To help you decide which is right for you, here's what you need to know about them. But first, here is some important information about the way in which clear aligners work.



Clear Aligners: the Newest Innovation in Orthodontics
Clear aligners are the newest type of orthodontic treatment available, and many patients are now choosing them over conventional braces. The way in which clear aligners work is simple. The bespoke aligners are worn over your teeth and exert gentle force on them to move them into their new, preferred position. There are multiple aligners in the series, each representing a different stage of movement in the treatment plan.
Aligners are worn in order, for at least 22 hours each day and patients must move on to the next in the series at the specified time. They can be removed for eating and cleaning. At the end of the treatment, patients will achieve aligned teeth and a beautiful smile.



About Smile Correct
Smile Correct uses the clear aligner technique to enable patients to enjoy a more attractive smile, but the preparatory work for the treatment is carried out at home. When you choose Smile Correct, you will be sent a kit in the post that enables you to take impressions of your mouth and teeth. You must then send these back to Smile Correct where an orthodontist will assess them and use them to plan how your teeth will need to be adjusted to correct your orthodontic issues.
Once your treatment has been planned by your orthodontist, you will be sent a smile preview. This will be an impression of how your teeth will look at the end of your treatment. Once you have approved this image, your aligners will be created and sent to you so that you can begin your treatment plan. They will be sent with instructions so that you know exactly how to proceed.
The average treatment plan takes 16 weeks. During this time, the progress of your treatment will be tracked by your assigned orthodontist via video calls.



About Invisalign
Invisalign is a little different to Smile Correct in that your entire treatment is carried and overseen in person by a trained and experienced Invisalign provider. To plan your treatment, you will need to attend an appointment at your provider's offices where cutting-edge technology is used to take dozens of high-resolution images of your mouth and teeth. These images are then fed into the Invisalign computer program which plans your treatment with precision and accuracy. This technology will break the movement of your teeth down into stages and use these to design each of your aligners. The superior precision with which Invisalign is planned is one of the defining reasons for its success.
Once designed, your aligners will be made. Invisalign aligners are all created from patented SmartTrackÒ thermoplastic material which is considered to make them more comfortable than those made by alternative providers. You can collect these from your provider and begin your treatment. Throughout the Invisalign treatment plan, the progress of your teeth will be monitored in person by your provider. This enhanced monitoring helps to ensure the success of your treatment.
If you are considering orthodontic treatment using clear aligners and would like more information about their of these solutions, or if you are certain that Invisalign is the solution for you and you would like to schedule a consultation with our experienced team at IronWood Dental Care in Queen Creek, AZ, please get in touch.